Yes, CHT is still hosting the forum.
The initiative was really to differentiate ourselves from CHT, not disconnect. This was done partly because HTC wanted to work on its own projects and CHT was extremely busy. There were no hard feelings or anything like that.
You might think of this as a younger sibling coming into his own and trying to distinguish himself from his older brother.
Once we get to the point of being a more organized entity, we'll be listed among CHT's partners. Until then, we are in an in-between position, not just the CHT discussion forum but still acquiring conscience and people as a separate organization. Check our website (first icon in the right upper corner) for more info about our vision and mission.
Count me in, please! Would love to figure out how I can contribute
Yes we can definitely organize another zoom meeting!
Please LMK when one is scheduled. I would like to join in.
We have to schedule it
. Sure I'll let you know.
The difference here from bait and switch strategies is that no one is making any money out of it, instead everyone here is trying to help and raise awareness and knowledge about these themes brought to the attention by Tristan Harris, using tools like this forum that CHT keeps alive.
So our fault would be trying to organize some projects and events on top of administrating this forum and let people meet and talk each other? Or to have pinpointed in an open and collaborative way some priorities, values - and pyramids, as we have visualized them - giving ourselves a name and a mission/vision?
Above in this topic there's already a detailed history of the relation between CHT and HTC. But @greg if you feel scammed nonetheless, please do all of us members a favour and explain where's the bait-and-switch scam according to you.
If you want to setup one you can use a WebSonar Library.
Private, no Tracking and anyone with a password can upload PDF, image, audio and video files from their browser. Comments can be added to every page for Collaboration and we have a Mastadon Server Link to Site
Here is a link to my library…Duane's Library
A bait and switch doesn't necessarily imply a scam. But I feel there was some misrepresentation and false pretenses and little effort to clarify that. If we need to blame me for that as buyer beware, so be it. However, I'm not sure that's a good foundation to build a community on trust.
Greg, from these one-year stats, it looks like you missed a good part of the conversation here. I've included my stats (first row) so that you can see what those of a frequent participant look like.
As someone who has been reasonably active I can say that the changes in the relationship between CHT and HTC hasn't been crystal clear to me, and I've actually got expertise in how nonprofits are incorporated, including the use of subsidiary structures. On one level it doesn't matter to me, as I find great value in some of the posts here - on the other hand I think there is an urgent need for not just an organization but a movement for humane tech, and I think those efforts are best done in close coordination. I'm unclear how that is moving forward, and frankly, as I've said before, the pace of change is such that I am concerned at the slowness of efforts to really scale up a movement as well as a more powerful organization.
I think it is now clear what is the relationship of HTC to CHT as explained by @aschrijver,@micheleminno and @patm. We now focus ourselves to our cause.
(New readers that jump in here, be sure to at least read this post about CHT vs HTC history)
No, not really. More accurate to say is that CHT could not and would not be involved with its community in a way to build it up to anything more than 'just a forum'. We did not have access to plans and strategies of the CHT on which we could base community planning, nor did we have access to their social media channels and website for publishing.
Since we adopted the CHT's strategic pillar of creating a 'Cultural awakening' we had to set up our own community website (and register a domain for it) and social media channels.
Even though CHT has recently launched a new website and presented a new agenda for Tech the organization still remains largely a black box to us. There is an important reason why this is so, and why this community is positioned differently: CHT operates on very high political and enterprise board levels. They are involved with lobbying and have the media scrutiny upon them. The community on the other hand strives to be as open as possible, for everyone, and operating at grassroots level.
In whatever organizational form there is strategic value if HTC works from the bottom up, and CHT top-down, both coming together and bridge the gap between humans and tech. Dividing tasks like in the diagram above, which I'll repeat here: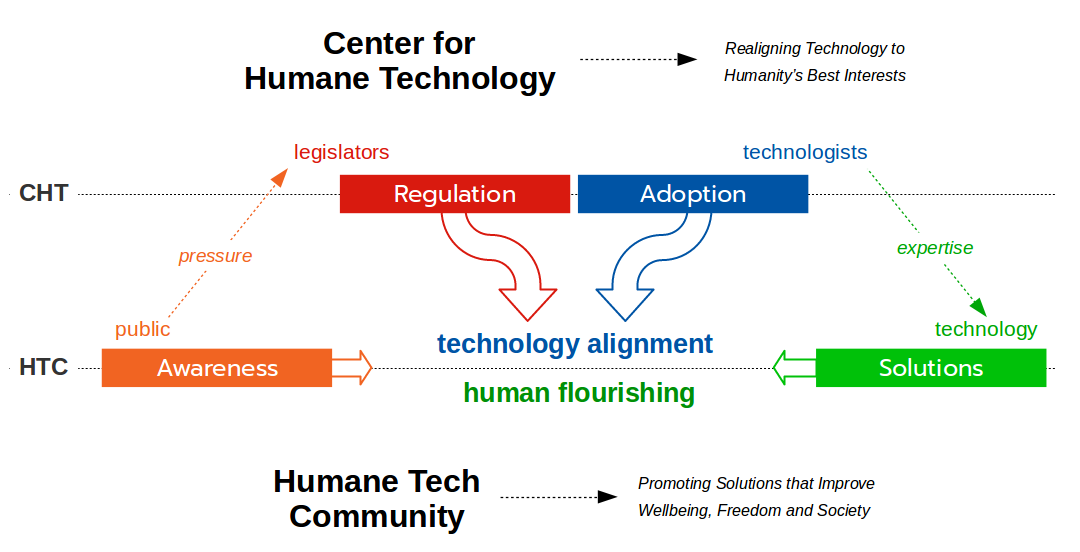 You are right about the urgency, and HTC is trying to become the movement you describe. We are not an organization, but an all-volunteer group of people.
Over the past year we have struggled with scaling up as a movement and we have tried a lot of things and various organization forms. Scaling our humane tech community is a really tricky issue. We suffer from what I call the engagement problem:
Humane tech is a vast, vast, largely not-well-understood field that encompasses many technical and non-technical areas of expertise. The problems with tech are complex and often abstract and many of the consequences of not acting aren't clear or hypothetical.
The people that reach this forum come from all walks of life, from all around the world. There is no clear audience to target to, but still we are trying to facilitate everyone.
From every 100 people who say "I want to help" only 5 actually do so when offered the opportunity, and fewer still are willing and able to selflessly takethe initiative and erect some project from the ground up, plus also do the boring chores that are required then.
This "doing the chores" to facilitate other members in the community easily amounts to a full-time job. I have been full-time engaged, volunteering for a long time, to facilitate other members. It is an unthankful task too, as it is never 'good enough' and efforts go to waste when facilitated members become inactive again. In the end this is unsustainable.
This last issue made us think about incorporating HTC as a non-profit, allowing us to do crowdfunding and have compensation for certain tasks. But we never made a decision about that. The bottom line is that if there is no solution to 'the engagement problem' without funding, i.e. we find the success formula for the HTC, then there is no business case for incorporation.
TL;DR
We are still the community of the Center for Humane Technology, and not a fully independent entity. The community admins see merit in realigning with CHT to communicate that positioning more clearly, and to forge closer cooperations between Center and community. To discuss that we will contact @davidgljay when he returns from his vacation.
With regards with all I've said in this large post… all your feedback is more than welcome
Hi Pat. With all due respect, I am not sure how this is relevant. I feel like you are framing an issue of public perception with a solution requiring a minimum number of read posts to maintain membership here. IMO, such a solution suggests the kind of addictive social media behaviors that inspired these discussions to begin with.
Thanks for your response, Greg. I was trying to point out that there have been numerous discussions of the relationship between CHT and HTC and that you might have missed them because of your relatively infrequent participation. My apologies for conveying the wrong message with my comment.
Just wanted to chime in quickly as a CHT representative (I'm our head of mobilization, so I lead the CHT-branded movement building work.) I want to second what @aschrijver and @micheleminno have been sharing: HTC used to be a forum on the CHT website, and developed enough of its own leadership and perspective that it is in the process of developing into an independent, closely partnered entity. Our values and work are closely aligned, and CHT maintains a good relationship with the HTC forums. As @aschrijver mentioned, the mitosis is happening because we realized that the two groups are best at different things.
HTC has built itself as an open, transparent community of people to support one another in moving towards humane technology. That's very needed, and something that we at CHT very much want to see exist.
CHT's mission is to change the way that technologists build products, and we're lucky enough to get invited into a large number of conversations where we have the opportunity to do just that. Unfortunately a lot of the people who invite us into those conversations want them to be confidential (for good reason), so we're not able to be as transparent as HTC about everything we do. We do a lot of convening experts to discuss critical problems in humane tech, sometimes people pulled from HTC, but we tend to have focused conversations about specific issues rather than the more open conversations that happen here. If you'd like to join one there are always public conversations around our podcast, we're working on hosting more of these conversations more regularly.
I hope that helps!
If you'd like to join one there are always public conversations around our podcast 2, we're working on hosting more of these conversations more regularly.
@davidgljay Do you have info on what happened to the podcast (if you are talking about "your undivided attention"). It seems to suddenly have stopped after eight eccellent episodes.